Nandeetas is a design oriented label that specialises in producing exclusive hand embroidered dresses and bags for you to feel beautiful and walk with style!
After making a big splash in the international design world, where it was designing and manufacturing for labels such as Armani Exchange(USA), DKNY(USA), Calvin Klien(USA), Mark Jacobs(USA), Monsoon(UK), Accessorize(UK), Antik Batik(France) and many others;
Known for its finishing and excellent quality, Nandeetas brought its glamour to retail, so that YOU can enjoy the beautiful couture designs!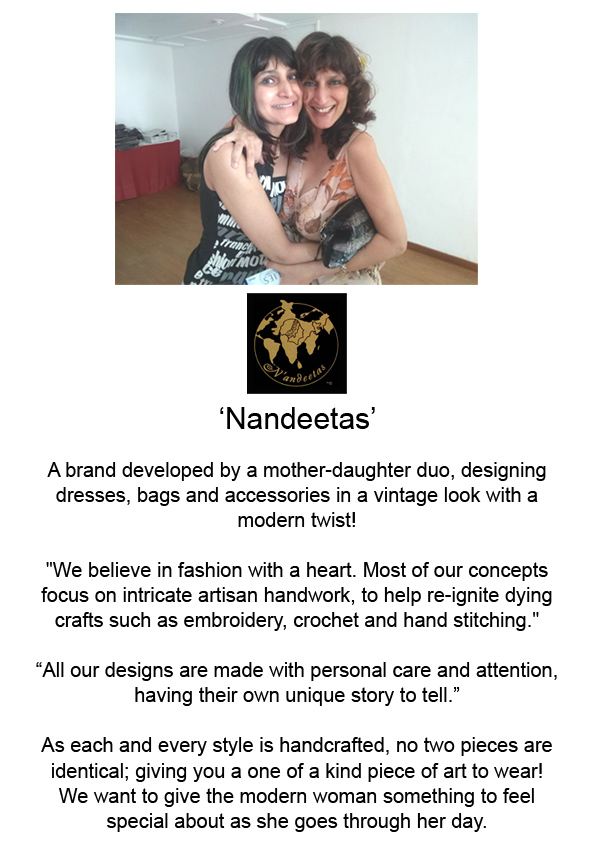 If one wants to be among the fashion trend setters or just get a feel of what is in fashion internationally, Nandeetas is the place to shop! Its bags and dresses have made a statement in fashion magazines of Europe such as Elle, Marie Claire, Vogue and the Cosmopolitan. Currently it is being regularly featured in 'Sivance', the Japanese magazine for happening trends in the big cities of the world! The designs have also made their appearances on the big and small screens. One of its African Tie-Dye Cab Bags featured in the Hollywood movie "It's complicated", where Meryel Streep was seldom seen on screen without that bag! Madonna carried one of the Nandeetas designs on the "Will and Grace Show", a popular American sitcom.
The dresses created are an attractive blend of the vintage and modern tastes to enhance one's own wardrobe. With a perfect mix of Antique flamboyance, chic ethnic look and a concept so unique yet accessible. Wearing a Nandeetas dress or accessory is bound to make heads turn in awe !